Waking in the Blue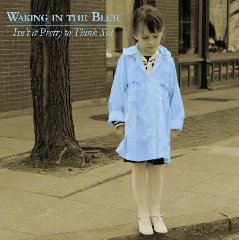 Waking in the Blue blends modern melodic rock and harmony-laden pop with an atmospheric progressive flair, creating music that is both accessible and intelligent. The band's disc, Isn't It Pretty to Think So, ranges from sunny pop to moody introspection, with real strings, horns, and woodwinds embellishing the standard rock instrumentation.
Brian and Michelle Coombes formed Waking in the Blue as a vehicle to record and perform their music. After spending 12 years in his previous band, Tristan Park, Brian was anxious to work with new people and explore new musical territory. With a new private recording studio in which to work, Brian and Michelle enlisted the services of drummer Dave Pierog and bassist Brian Ristola, both talented local session musicians, and the four of them recorded the basic framework for a number of songs in the summer of 2000. At that time, Tristan Park guitarist Mike McAdam joined the group to add his guitar work to the material.
As the project continued into 2002, Pierog and Ristola drifted away into other projects. Another Tristan Park alum, drummer Jim Turmel, joined to finish off the project. As much as Brian and Michelle had enjoyed working with new musicians, there was something magical about working with their old Tristan Park band members again. The musician's familiarity helped the ideas flow and the camaraderie returned.
Although a new band, the members of Waking in the Blue all have years of experience in the music business, both collectively and individually.
Keyboardist/bassist Brian Coombes was a founding member of Tristan Park, a progressive rock band from southern New Hampshire. Once hailed by the Nashua Telegraph as the area's most literate, ambitious, and talented rock band, Tristan Park went on to build an international following after signing with the British-based GFT/Cyclops label in 1994. The band recorded two critically acclaimed discs for GFT, A Place Inside (1995) and Looking Homeward (1998); both enjoyed impressive sales spurred by worldwide radio airplay and extensive touring throughout the United States, Canada, and Europe. Brian was Tristan Park's lyricist and one of its primary composers. Apart from his role in Waking in the Blue, Brian is a producer and recording engineer at Rocking Horse Studio, a Pro Tools facility that he owns with Michelle. Brian's favorite artists include Crowded House, Marillion, Genesis, and Joe Jackson.
Michelle Coombes began singing in New England clubs with her sister, Karen Grenier, in 1994. Michelle also made guest appearances with Tristan Park, contributing background and cameo lead vocals, both on stage and in the studio. Her favorite artists include Squeeze, Billy Joel, and Aimee Mann.
Mike McAdam joined Tristan Park in 1995. After Tristan Park's 1998 European tour, Mike began work on his first solo disc, Show and Tell. He is currently a student at the Berklee College of Music in Boston. His favorite artists range from the Beatles to Kiss, T-Rex to Lenny Kravitz.
Drummer Jim Turmel is also a Tristan Park veteran, having joined the band in 1992. His favorite artists include Rush and Sarah McLachlan.
Multi-instrumentalist Bryan Duff joined the group as production on the disc was wrapping up and rehearsals for the live show were starting. Bryan's skills grace a number of the tracks on the disc; on stage, Bryan contributes rhythm guitar, violin, and bass.
Isn't It Pretty to Think So also features guest appearances by Chris Difford and Ian McDonald.
Difford, one half of Squeeze's legendary songwriting team, contributes his distinctive vocals to "Two."
Apart from being the creative force behind King Crimson's seminal 1969 debut, In the Court of the Crimson King, Ian performed on the first three Foreigner albums and has also performed with artists like T-Rex and former Genesis guitarist, Steve Hackett. Ian contributed sax, flute, bass clarinet, and acoustic guitar on four tracks.